Black Swan Studio And Spa
Black Swan Studio and Spa's Information
Type: Resort/Commercial
Rating: 5 Stars
Location: North Lake Shore Drive
Fame: N/A
Atmosphere: Natural, Safe
Owner(s): Julia
Manager(s): N/A
Employee(s): N/A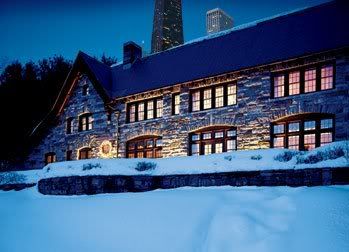 Black Swan Studio and Spa was opened in 2006 by its owner, Julia Lau.
Desc
A fashionable two-story building sits on the east side of Lake Shore with the lake behind it. There is a manicured lawn up and around the studio. The front of the building is brown stone and glass. There is an elegant covered pavilion of grey stone with no tables or chairs before the business's glass doors. Closer to the doors, one can see the reception area inside. There are hardwood floors and ceilings, simple, contemporary sofas and chairs, several shelves with products.
A sign faces the road showing the name of the business: Black Swan Spa and Studio - Quality alternative health at affordable prices. This business is open seven days a week from 6AM to 9PM unless but will take night appointments if scheduled ahead of time.
General Interior
The interior of the building is beautiful, natural, and sleek. Most of the walls are rough brown stone, and the floors are pale oak as is the ceiling and its rafters. The walls that are not stone are painted neutral colors. The furniture is posh. The chairs are comfortable, expensive-looking contemporary pieces of dark brown velvet. Tables are functional, stylish pieces of pale wood. The only concessions for color come from tasteful decorative pieces: abstract paintings that hint at texture and nature or simple, elegant floral arrangements. The air is light and scented here: an appealing concoction that promises to offend no one and relax everyone. Faint music can be heard throughout the building. It has a clean and sweet sound that embodies both nature and art.
---
Services
A note to our customers:
Guests must be over the age of sixteen. No one under the age of sixteen allowed in the pool area, and no one under the age of ten should be left unattended in the waiting area.
Thank you,
The Black Swan Staff
Massages
Black Swan Special combines a blend of five massage approaches: Japanese shiatsu, Thai, Hawaiian Lomi Lomi, Swedish and Balinese. This is performed by two therapists in concert. Table time is 40 to 60 minutes. Ask for current rate.
Balinese Massage combines stretching, long strokes, skin rolling and palm and thumb pressure techniques. Promotes relaxation and a sense of harmony. 50 dollars for 30 minutes.
Thai Massage is a firm, dry massage technique combining attention to Chinese pressure points and Ayurvedan stretching techniques. Stimulates blood flow, releases toxins, promotes healing. 80 dollars for 30 minutes.
Shiatsu is a Japanese pressure point massage based on the same principles as acupuncture. Eases fatigue, promotes flow of energy. 50 dollars for 30 minutes.
Swedish Massage is a classic full-body massage employing long, kneading strokes. Promotes total relaxation, eases muscle stress. 65 dollars for 30 minutes.
Aromatherapy Massage has Swedish-style massage techniques coupled with special blends of natural essential oils designed to relax, energize, detoxify and more, as the guest chooses. 100 dollars for 60 minutes.
Reflexology employs pressure on the soles of the feet to induce deep relaxation, improve circulation; combined with immersion of the feet in a cool mineral bath. $40 for 30 minutes.
Hot Stone Massage is a massage using warm, scented oil and hot stones. It is deeply soothing, relaxing, perfect for easing tight muscles, and encouraging the flow of energy throughout the body. This session runs about 60 minutes long and costs 125 dollars.
All massages include sauna and shower use as well as rose-bath and a cleansing snack (as appropriate*).
*Giving vampire-customers blood would be inappropriate.
Body Treatments
Dead Sea Salt Scrub: A massage with a mixture of water, salt crystals and essential oils to remove impurities and leave body and skin restored. Rose-bath included after session. $125 for 60 minutes.
Clay Body Mask: Gentle body scrub followed by detoxification with mineral-rich Sedona clay and a period spend wrapped comfortably in a thermal blanket while the clay purifies and cleanses. Moisturizing treatment follows. $125 for 60 minutes.
Many other treatments such as coffee scrubs and green tea wraps are available. Just ask!
Ayurvedic Treatments
Ayurveda Facial: Gentle treatment employs 100 percent pure aromatherapy oils infused into the skin via gentle massage and warm compresses. The massage, using acupressure and stroking techniques, covers the upper body. A refreshing facial mask follows. $100 for 45 minutes.
Shirodhara: Massage followed by Ayurvedic oil flow treatment, in which a gentle flow of warm oil is dripped onto the third eye on the forehead, calming and relaxing. Followed by scalp massage and shampoo. $80 for 45 minutes.
Indoor Pool and Hot Tub
Thirty dollars per month, the pool and hot tub are open from 6AM to 9PM every day except for holidays.
---
In-Character Events
page revision: 12, last edited: 15 Jan 2010 09:23