La Pomme Rouge
La Pomme Rouge's Information
Type: Cabaret & Reservation-only restaurant
Rating: 4 Stars
Location: 6122 Cermak Road
Fame: N/A
Atmosphere: N/A
Owner(s): Koray
Manager(s): Savina
Employee(s): N/A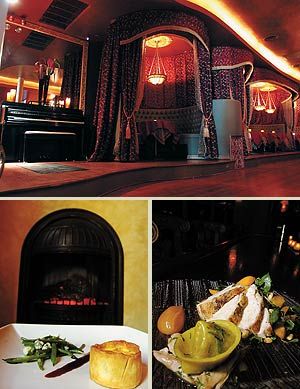 Info
La Pomme Rouge is a Cabaret and Reservation-only restaurant currently ran by Savina, though it was originally owned by Ember, and is where many of the vampires of the city go to hangout. The Salons inside of La Pomme Rouge are indeed open only to vampires and those that are accompanied by vampires.
La Pomme Rouge. The Red Apple. The forbidden fruit. It is cast in both dark and light, being the symbol for temptation, seduction, evil, and sin as well as value, marriage, innocence, knowledge, and beauty. The symbol is found all over the world, in various religions and mythologies, folklore, and traditions. At La Pomme Rouge, there are three interpretations for the fruit— apple as knowledge, beauty, and, of course, temptation— expressed through Neo-Baroque, Victorian, and Art Nouveau period pieces. The attention to detail is apparent in most every room, from the cabaret lounge, the dance floor with its beds for relaxing with friends, to the VIP salons, Paradis and Infer with their lush opium-den appearance, to the excessive, lounge-like restrooms which play into the theme of beauty by hanging mirrors — gasp — right inside the stalls. La Pomme Rouge is the perfect location for those looking to revel in a decadent world and for those who thrive in it.
Note: The guards check for weapons and holy items. However, lighters and matches are allowed.
Exterior's Description
A grand building despite its small height of a mere three floors, all fascades are fashioned in a gold and white Neo-Baroque style. Some wordly passers-by have remarked that La Pomme Rouge resembles the waterfront portion of Istanbul's Ortakoy Mosque, and in some ways, it does. The portico, however, ruins the visual, but the building is beautiful nonetheless. Amid the landscaping, a single sign reaches up into the lights of the Crimson District. The silver shines red in the lighting: LA POMME ROUGE Cabaret and All-Nite Restaurant.
The Cabaret Lounge
Guests of La Pomme Rouge are welcomed to indulge in the soothing comforts of the lush oversized beds surrounding the dance floor or dance the night away to the softer, more sultry side of progressive music mixes- grooves that one can just as easily and contentedly relax to as dance to. The black stone floor of the vestibule stops and dark hardwood takes over the dance floor. Black stone steps lead up to the beds. Champagne-coloured and crimson-coloured sheer, silk curtains are layered to create the illusion of privacy between each downy, red bed. Small tables rest at the foot of each bed with a golden bowl of edible red apples. Overhead, three floors high, the ceiling is ornately carved and painted in rich gold, white, and red. Modern lights make the room glow, the few lights over the dance floor shift in various honey-hued patterns.
The bar is against the wall to the right of the entrance and backed by a golf-framed, six-foot-tall mirror. The mirror's length is equal to the bar. The bar is made of the same dark wood as the floor with a red granite top. Dim lamps are dispersed along the length of the bar-top. Stools are draped in burgandy velvet slipcovers and tied on by silk ropes and tassels.
While this is a restaurant, there are no dining tables with chairs. People are seen carrying small trays of food- the main courses portioned into finger foods. (See +view) There are, however, small tables in front of the beds in this room and more tables dispersed throughout the salons where patrons may relax and nosh on posh nibbles throughout the night's revelry. And, of course, guests are welcome to dine at the bar, too.
Paradis & Enfer, the private salons
The VIP room: Two salons come together to form one lavish area. Paradis (paradise), in the front, boasts elegant couches, fireplaces and a Victorian sideboard on the back bar; Enfer (hell), in the back, is a "den of inequity" with fabric-covered walls, dozens of pillows and the design decadence of an opium den. The only divider is a fireplace that serves both sides of the room.
Red is the base color for the two salons. Paradis blends the red with gold and white, and Enfer sets the red brutally against black and Tyrian purple. The floors of both salons are lined with various thick, soft, rich rugs, and patrons are often seen sprawling on the floor amongst the many pillows of Enfer. Food is served throughout the salons, but Enfer offers a small cigar bar. A wine bar is featured in Paradis, and there is a small dias with a white baby grand piano for private entertainment. Most of the time, the salons play whatever music is currently spinning in the cabaret lounge but not always. A few small enclaves are curtained off for a private rendezvous, and all feature a rich autumnal palette.
If one does not have passage, he or she has to either impress the guards at the door with impeccable style or have an invitation from someone who does have passage into Enfer and Paradis. And while the guards are a nice touch, one could easily be more afraid of the beautiful patrons (and perhaps should be).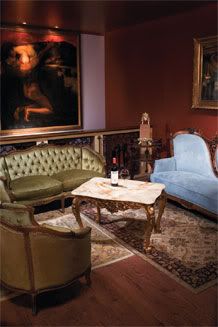 La Pomme Rouge's Menu
The idea here at La Pomme Rouge is to feed your lover. But if you don't have one with you and don't want to find one here, these choice morsels are easy to take with you and devour while one enjoys everything else La Pomme Rouge has to offer.
SELECTION OF COLD CANAPES
Duck Confit with Red Onion Marmalade on Potato Pancake
Pastrami Salmon, Savoy Cabbage on Marbled Rye
Parma Ham with Mascarpone Stuffed Fig
Lump Crab Salad, Heart of Romaine and Louise Dressing
Deviled Quail Egg and Domestic Caviar
Maine Lobster Mini Club with Tarragon Aioli on Brioche
ECLECTIC ASIAN HORS D'OEUVRES
Chicken Lettuce Wrap with Nuoc Cham (Cold)
Vietnamese Summer Rolls (Cold)
Tiger Shrimp on Black Sesame Toast (Hot)
Peking Duck Pancake with Lime Hoi Sin (Hot)
Chicken Teriyaki Kabobs, Pineapple and Peppers (Hot)
Shrimp Spring Roll, Sweet Chili Sauce (Hot)
Philippine Chicken Adobo Skewer with Peanut Sauce (Hot)
SELECTION OF HOT HORS D'OEUVRES
Beef Brochette, Peppers and Onion and Mushroom
Sun-Dried Tomato and Fontina Cheese Tart
Seasoned Breaded Chicken Strips, Honey-Mustard Sauce
Buffalo Chicken Wings, Ranch Dipping Sauce
Maryland Crab Cake, with Roasted Pepper Aioli
House Made Petite Beef Wellington Tarragon Sauce
Grilled Salmon Skewers, Honey Ginger Glaze
Mini Chicken Cordon Bleu with Honey Mustard Sauce
Roasted Chicken and Black Bean Quesadilla, Pico de Gallo Sauce
SUSHI AND SASHIMI served with Marinated Ginger, Wasabi, Soy Sauce
Maguro (Tuna)
Hamachi (Yellowtail)
Sake (Salmon)
Ebi (Cooked Prawn)
California Rolls and Unagi Rolls (Fresh Water Eel)
La Pomme Rouge also features seasonal and tropical fresh fruit as well as artesian cheeses.
In-Character Events
page revision: 20, last edited: 07 Jan 2010 11:01